IBM South Florida
Quarter Century Club
and Alumni Association

Home Page
---
About Our IBM South Florida QCC and Alumni Association

Our Association was formed in 2011 to promote social and community activities for current and former IBM employees with 25 years of service or more as well as current and former employees with at least five years of service and spouses of deceased employees. Our Association receives no funding from or sponsorship by IBM. Our

purpose is to enjoy one another's companionship while participating in our many social and volunteer activities.

We invite new members via different communication methods. However, we rely heavily on our membership to encourage eligible candidates to join our Association. We also count on all members to contribute their ideas, suggestions, and their time for volunteer activities.

Membership is voluntary and while you must qualify as an IBM Quarter Century employee or a current or former employee with at least five years of service, membership in the IBMSFQCCAA is not automatic. You must join our chapter and pay the annual dues which have been set at $20.00 per year (or become a Lifetime member for $100 ($75 for those residing outside of Florida)).

If you are not a member of our Association and you have qualified for the QCC, or have at least 5 years of service with IBM, we would love to have you as a member. Please complete an online membership application by clicking the Join tab on this website.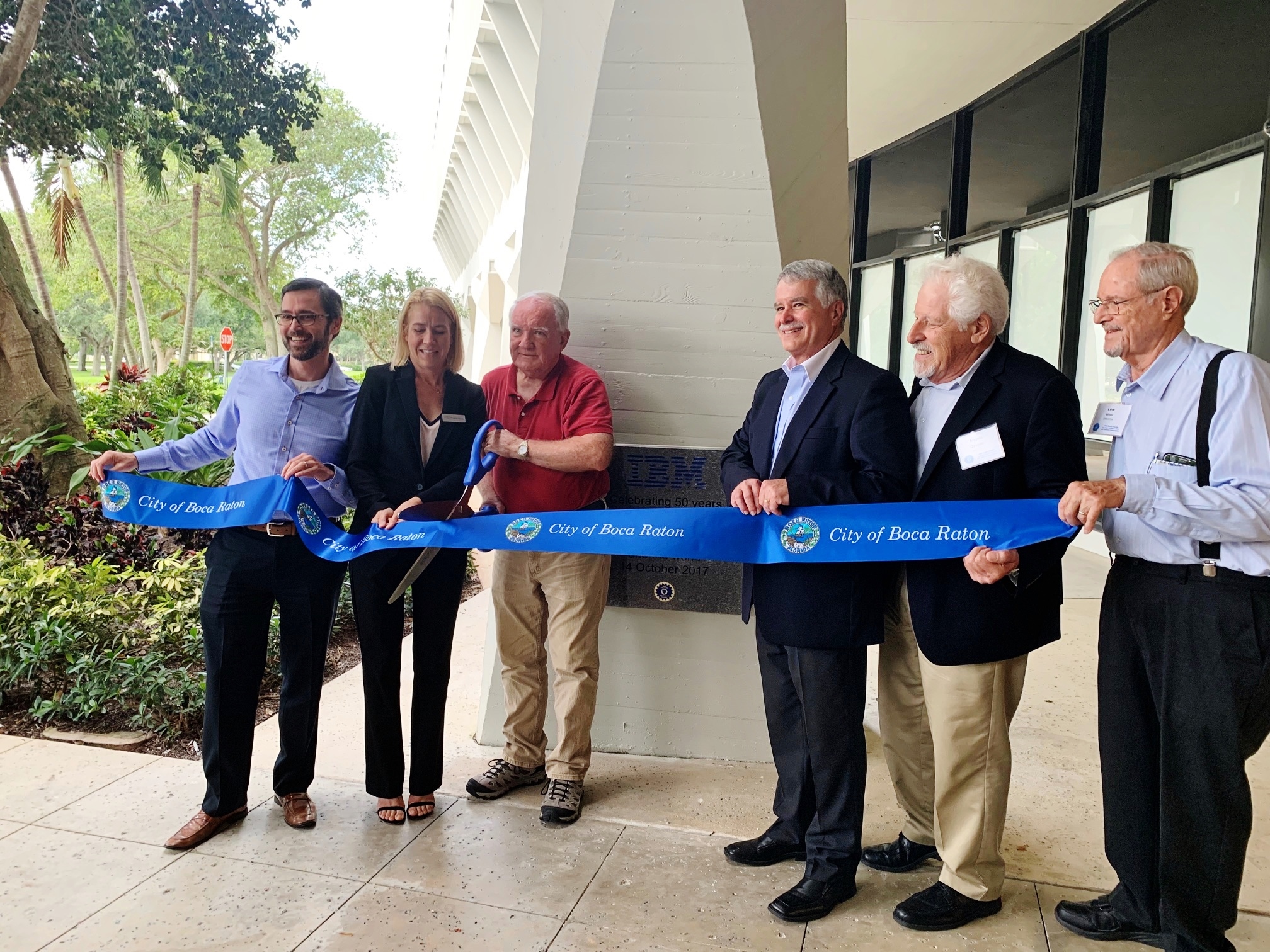 Ribbon-Cutting on May 9, 2019 at BRIC to dedicate the IBM Boca 50th Anniversary Plaque.
Facebook Closed Group
One of the benefits of membership in IBMSFQCCAA is to become a member of our IBMSFQCCAA Facebook group
Update Your Member Contact Info
If your email address, phone number, or mailing address has changed since you became a member of the Association then please click on this link Update Member Info to email your name and contact info so we can update our Membership Directory. Thank You.
Member Services
The IBMSFQCCAA is an SEG (Select Employee Group), therefore its members are eligible to apply for membership in the IBM Southeast Employees Federal Credit Union.
IBMSFQCCAA Annual Dues (or Lifetime Membership)
It's time to renew for the next year or become a Lifetime member.
You can renew online using PayPal. Simply click this button: , select your desired Membership Type (from the drop-down list) and click Add to Cart. It is not necessary to have a PayPal account to use PayPal to pay your membership dues. It is important that the email address that you specify to PayPal is the same email listed for you in the IBMSFQCCAA Membership Directory. If you are not sure, send an EMAIL containing your name and current address to: treasurer@ibmsfqccaa.org from the EMAIL address you use for PayPal.



To renew your membership by US Post Office mail, simply send your check for $20.00 made out to "IBM South Florida QCC and Alumni Association" or "IBMSFQCCAA". Or you can take advantage of our Lifetime membership. If you reside in the state of Florida, a Lifetime membership is $100. For those residing outside of Florida, the lifetime membership is $75. In the memo area, write "Annual Dues" or "Lifetime Membership" and mail your check to:

IBMSFQCCAA
P. O. Box 273284
Boca Raton, FL 33427-3284
When a dues payment is processed, the "Dues Paid Thru" column in the online Membership Directory for that particular member will indicate that dues are paid through the end of the membership year, or in the case of a Lifetime Membership the "Dues Paid Thru" column will indicate "11/30/9999" and the Membership Type column will be changed to "Lifetime Member".
New members can verify whether we have processed their dues if they receive an email with their UserId and Password. Renewing members can verify by checking the "Dues Paid Thru" date in the online Membership Directory.
Please review your information in the directory and verify your home address, phone number and e-mail address so that we in the Association can stay in touch with you. Please e-mail any changes or questions about dues or your membership status to secretary@ibmsfqccaa.org.
Founding Members
Rod Adkins Glenn Anderson
Richard Beisel Hum Cordero
Ted Davis Debbie Dell
Ernie Galinis Angelo Gasparri
Fred Goetz Robert Hood
Jerry Lamar Don Lee
Frank Loricchio Lary McCants
Jud McCarthy Lew Miller
Joe Sarubbi Sy Schulman
Discount Activities
IBMSFQCCAA has entered into an agreement with Tickets at Work to provide our membership with a wide range of discounts. Of course, these discounts include Florida parks and events, but they also include Las Vegas, California, New York, and, actually, the whole USA and beyond. Click here to login to view the Tickets at Work Discounts.
As always, we are pleased to share these great offers with our IBMSFQCCAA members. Enjoy the Savings!
Refreshing Website Content
Occasionally, you should refresh the content for each webpage using the refresh button or F5 to see the new content (browsers save pages you have seen in order to load them faster; however, they do not automatically update page content).
Terms of Use
This site is intended for the exclusive use of active members of the IBM South Florida Quarter Century Club and Alumni Association. Eligibility and membership information is included in the Bylaws section of this site. The IBMSFQCCAA depends on membership dues for the Association operation. Currently, dues are $20 per calendar year.
Website created by Boca Web Creations, Inc.